SOLUTIONS
End-to-end traceability solutions for every supply chain.
PRODUCTS
A traceability platform that can easily be integrated into your enterprise systems.
Business Leaders
Connect your organisation into a value-generating network spanning global supply chains.
FARM COOPERATIVES
Join a global network that brings digital innovation to farmers
OUR

TRACEABILITY AND COMPLIANCE

SOLUTIONS
At farmer connect, we believe that traceability is key for a future proof business, in a new era of accountability and trust.

Farmer connect enables you to map your supply chain from the very beginning of your product's journey until it reaches the end consumer.

We empower you with our blockchain-backed traceability software to seamlessly collect and report on your ESG (Environmental, Social, and Governance) compliance requirements, delivering transparency to your end consumers.
OUR INTEROPERABLE SOLUTIONS ALLOW YOU TO
Collect trusted data and report on your ESG
and compliance needs in one system.
Get data from the first mile to prove
your products
are coming from an area free from deforestation
with satellite data and polygon mapping.
Track and trace seamlessly from the first mile
of your
product's journey until the
end
consumer.
Integrate seamlessly our solution into
your
existing
infrastructure to assure a maximum degree
of automation and efficiency.
ROLE OF TRACEABILITY
IN CONNECTING THE DOTS
Our platform enables farm to shelf traceability and is built on the premise of driving ESG impact and operational efficiency for all players in the supply chain.
Together with our team we bring together food industry expertise with technical mastery in order to create customisable traceability solutions that deliver on business needs and enable compliancy with regulations.
Our initiative is supported by industry leaders, who recognise digitalisation, trust, and sustainability as the most relevant trends in the food and agriculture sector.
THE EU DEFORESTATION REGULATION (EUDR)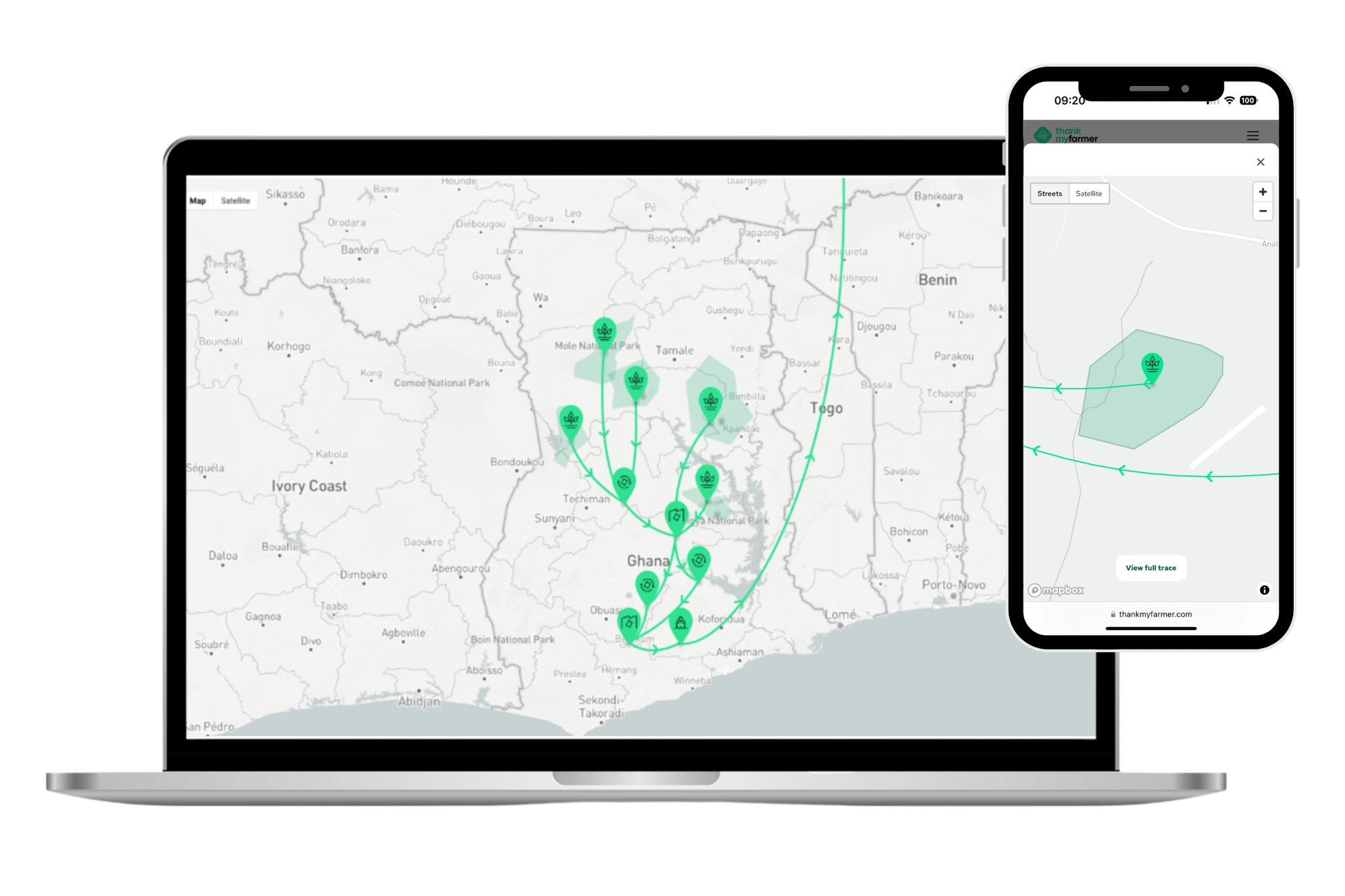 Heard the news? The EU is cracking down on certain agricultural products linked to deforestation or forest degradation by banning them from crossing its borders.
An important requirement for compliance is linking your product/commodity to the precise geo coordinates of where it was grown.
Need help getting your supply chain ready? Get in touch with us.
LET'S TALK EU DEFORESTATION REGULATION
We're a tech company that helps unlock benefits along global supply chains through our end-to-end traceability solution. We operate on a hybrid product and project basis, focusing first and foremost on client pain, solving it with a combination of tools we develop, off-the-shelf specialised tools, and third-party partners.
We can visually show how goods travel from origin to consumer, as well as payments from entities back to origin. Our traceability solutions are designed to support increased trust, efficiency, and sustainability within food and beverage supply chains by allowing for the secure sharing of data as well as the exchange and tracking of information and payments.
WE're WITH YOU ON YOUR

SUSTAINABILITY JOURNEY
"Historically, RnG Coffee has been important social gathering point for people in Balkans. It makes us very proud we've managed to raise the bar, when it comes to coffee socializing events, by digitally connecting our consumers with farmers using innovative Blockchain technology. We strongly believe more companies will introduce supply chain transparency in their future strategy, following our example and good results."
Farmer connect only uses proven, reliable and scalable technologies.