How does the EU Deforestation Regulation (EUDR) affect my business?
⏰ The clock is ticking as the EU's Deforestation Regulation (EUDR) entered into force on June 29, 2023. It has far-reaching implications for businesses, both within and outside the EU. Indeed, the EUDR provisions will become applicable as of December 30, 2024, implying that every actor within the supply chain needs to react promptly to comply with this new regulation.
What is the EU Deforestation Regulation (EUDR)?
The EU Deforestation Regulation, or EUDR, is a regulatory framework established by the European Union to address the pressing issue of deforestation. Its primary aim is to combat deforestation and forest degradation on a global scale.
The regulation primarily targets businesses that place products on the EU market, such as importers, traders, and producers. However, it indirectly affects a wide range of industries, including agriculture, forestry, manufacturing, retail, and more.
The EUDR aims to ensure that a set of key products traded and consumed in the EU and globally no longer contribute to deforestation and forest degradation.
Which products are covered by the EU Deforestation Regulation?
The EU Deforestation Regulation takes aim at commodities known for their significant role in driving deforestation, including cattle, palm oil, soy, cocoa, rubber, coffee, and timber, as well as their derivative products. By zeroing in on these high-impact commodities, the EU seeks to foster responsible supply chains and safeguard the world's vital forests and their intricate ecosystems.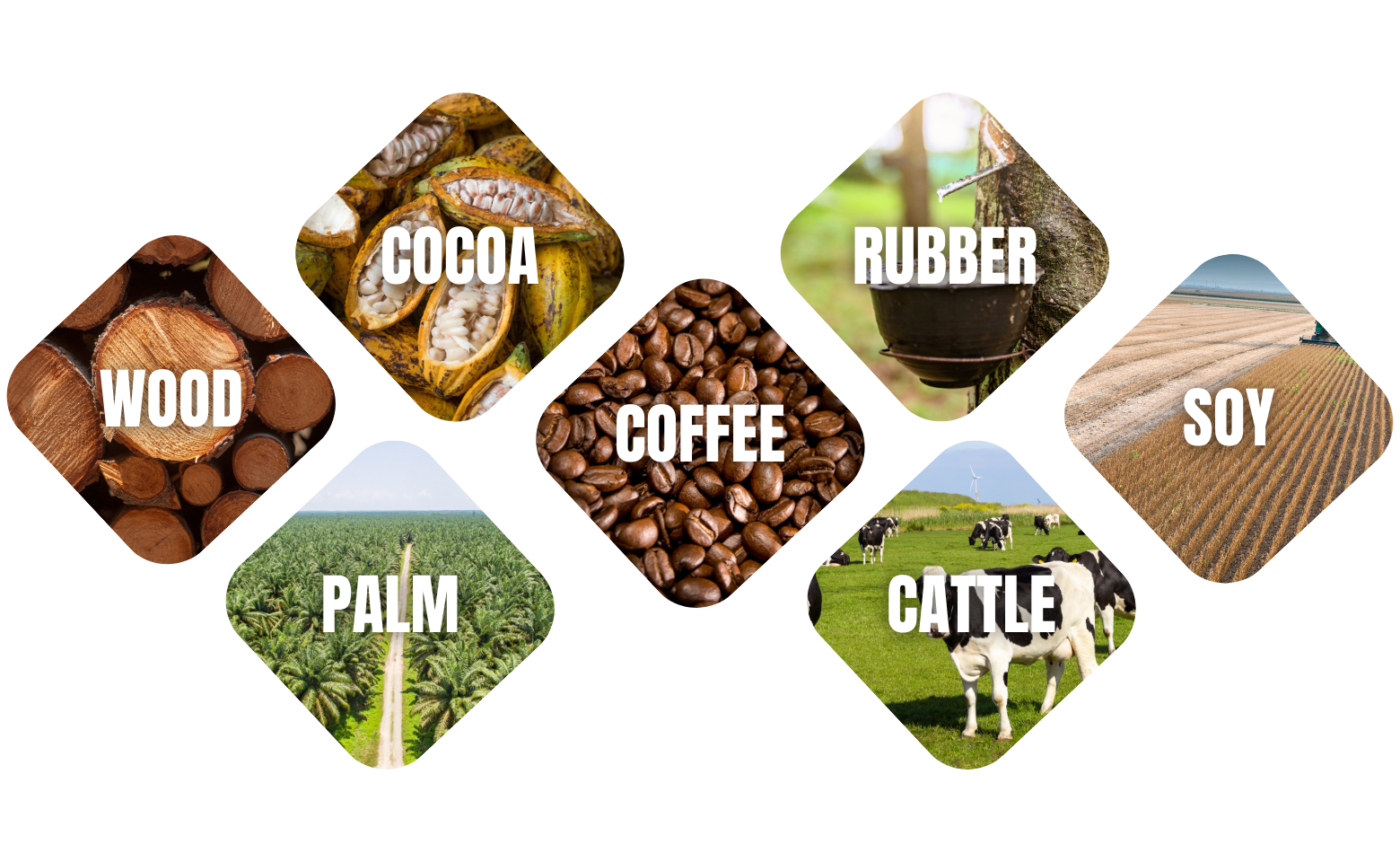 ❗Note: A review will be carried out in two years (2025) to determine if other products need to be covered by the obligations. The list of commodities will also be reviewed on an ongoing basis.
What are the risks of non-compliance with EUDR?
Non-compliance with the EUDR can have serious consequences for businesses. The regulation's primary objective is to ensure that any concerned products placed on the EU market are sourced from sustainable supply chains, free from deforestation and ecosystem degradation. This means that they were "produced on land that was not subject to deforestation after December 31, 2020." This applies to any company, regardless of whether they are EU-based or not, and for legal and illegal sources of deforestation in Europe and overseas.
➡️ Large companies would have 18 months to comply with the EUDR requirements.
➡️ Small and medium-sized enterprises would have up to 24 months, with deadlines set for December 30, 2024, and June 30, 2025, respectively.
Failure to meet these requirements can result in reputational damage, financial losses, and legal ramifications.
The most significant risk for non-compliant businesses is the potential exclusion from the EU market. This could lead to the loss of a substantial customer base and revenue. Moreover, businesses may face legal action, including fines and penalties, depending on the severity of their non-compliance.
At least 4% of the total annual turnover in the EU of the non-compliant operator or trader could be fined.
In addition to financial penalties, non-compliant businesses may also suffer reputational damage. Consumers and stakeholders increasingly value sustainability and ethical sourcing, and any association with deforestation can lead to a loss of trust and credibility.
How Can Businesses Comply with EUDR?
While the EUDR presents challenges, businesses can take proactive steps to achieve compliance:
📲 Digitalizing Farmers: Empower farmers with digital tools and identity to help track and collect data at the source level.
📍Geo-Localization: Gather geographic information (i.e. satellite imagery) on the land plots from which commodities are sourced. Showcase that your agricultural practices are free from deforestation with Polygon mapping.
📊 Information Gathering: Collect data about your product's supply chain by using supply chain traceability software. This will enable you to report on your supply chain and ensure it is easily auditable.
How Can farmer connect Help?
Farmer connect offers flexible traceability software for trusted and auditable data on sustainability to address your compliance and reporting needs. We help you obtain trusted data from the first mile of your product's journey all the way to the end-consumer. Learn more about farmer connect products.
Book a demo to find out more about how farmer connect can support you in your journey toward EUDR compliance.